Custom t-shirts are one of the most trending clothing items of all time but with this trendiness comes few legal problems as well. It is easier to search for Google Images, Pinterest or a celebrity t-shirt that we might want for our custom t shirt design but in many cases, we need to cross-check, whether the seller has copyrights or trademark for the particular design being sold. In India, some websites influence t-shirt designers to put on record its trademark and copyright that is issued by the authorities and protect its two well-defined types of intellectual property: Copyrights & Trademarks.
Understanding Copyrights & Trademarks (elearningbrothers.com)
What is Copyright?
Copyright means the legal rights, given to the originator for a fixed number of years. Copyright ensures work cannot be used without the originator's permission. This means original creators of work and anyone they give authorization are the only ones with the exclusive rights to reproduce their work. Copyright protects – Articles, Research Papers, Books, Painting, Images, Artwork, Television shows, Movies, Songs, etc. 
What is a Trademark? 
A Trademark generally refers to words, symbols or any kind of logos. It protects specific names, logos and symbols of companies or businesses. The trademark only lasts for a specific period of 10 years, after which you have to renew it again through online or offline modes.
Copyrights and Trademark (m.economictimes.com)
What is the Difference Between Copyright & Trademark?
If you are putting name, symbol or logo of any company or business brand on your t shirt design without their written permission, you're doing Infringement of their Trademark, while, putting any song lyrics on your t shirt design without the original creator's authentication is a Copyright Violation.
Hold on! Does that mean you can't buy or sell custom t shirts without the original creator's written permission? The answer to this question is No! Let's see how? 
Any individual gets his/her legal rights to opt for any kind of designs, images and quotes from a single place called Public Domain. 
What is a Public Domain?
Public domain is a place where all the creative materials, images or artworks are not safeguarded by copyright and trademark laws so one can easily be able to access the public domain. Works or materials determined to be within the public domain are free for the general public to use in any manner. They can be copied, sold and merchandise in any way an individual wants. The t shirt design in a public domain is the best way to choose t shirt design legally. 
Free Public Domain Image Websites
1. Unsplash 
Unsplash is a free public domain image website from where you can choose numerous images without any legal issues. The website also provides high-resolution images. 
2. Public Domain Pictures
Public Domain Pictures is an image website that allows you to download images and upload images for free. The site also mentions the information about the picture such as the name of the camera used and its image artist etc.
and a few other websites as well like Wikimedia, Flickr, Oldbookillustrations etc.
If you still desire for an image that has some copyright issues you can make another way for that which is request permission and licensing. 
What is Request Permission or Licensing?
Making use of a copyrighted graphic image with a permit from the original artist or author is fairly simple to put out in just three simple steps :
Find out who the owner is and what rights do you need
Get in touch with the owner and ask if they need the payment for the same
Get your authorization in writing to put on record
Copyrights and trademark basics for t-shirt designs (behance.net)
You can also do the same for yourself if you are planning to produce your creative piece, make sure to get its copyright before anybody else plans to use it. But how? 
Copyrights to Safeguard T-shirts Designs 
Copyright your images or designs by filing appropriate designs with the Copyright Office which will charge a fee of Rs 200 to Rs 40,000 exclusively for a single design. To safeguard your designs, register your designs and images by filling applications on the Copyright Office website page. The below mentioned flow chart explain the process well :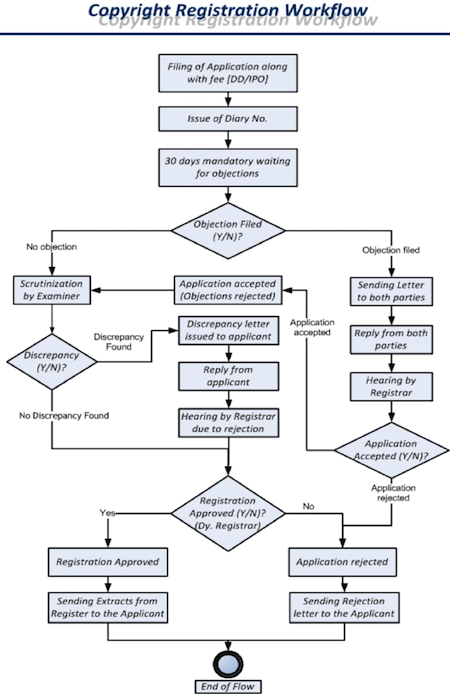 Process of copyrighting images or designs with the Copyright Office (intepat.com)
Along with copyrights, one more important thing before planning a creative piece you start choosing your logos or symbols with it but how will you find it whether the logo you created for your personalised t shirts or some companies or brand is unique and not registered to someone else already, for that you do a trademark search. Let's find out how?
3 Simple Steps to do a Trademark Search for T-shirt Designs
To check if your Brand Name is Trademarked 
Type the name of your Brand in the word mark row
In the class row, type 25 and then go for search
If there is any kind of dispute found then it is necessary to change your name or pluck up your courage to fight against the company on legal terms
A picture representing a trademark search done for Nike by following the above steps 
Apart from this people still use famous brand logos and quotes while t-shirt printing and merchandise them without the original creator's permission so you must get some basics before designing a t-shirt using these logos and quotes.
Using Famous Brand's Logos
Logos are considered intellectual property. The legal rights to a logo belong by default to its original author. You should never use someone else's logos on your custom t shirts without their authorization. If the owner allows you to use their trademark, you may have to sign a licensing agreement describing the terms of any commercial and noncommercial use, as well as pay them a licensing fee for the same. For example, you can not use Nike logo or Nike "Just Do It" logo on your customised t-shirts as Nike has got its own copyrights and trademark and without their permission, you cannot use them on your custom t-shirts.
People can't use brand logos on their custom t-shirts as their copyrights and trademarks are already been registered (bselite.com)
Selling T-shirts with Famous Quotes
If the famous quotes are from the public domain, you can generate designs with them. If they're not in the public domain, you must get an authorization for them. Quotes from authors who are dead for more than 70 years along with common sayings & parodies are legally allowed to put on a t-shirt but quotes from trademark material, literary works of art, and corporate slogans are not allowed at the same time. 
Example: 
Quote : "Memory is the diary that we all carry about with us." – Oscar Wilde
Reasoning :  Can you use this quote on your custom t-shirt? Yes, you can! As Oscar Wilde said the quote before his death, it is still present in the public domain and can be used without any legal authentication or issues.
Quote : "Together, we will make America strong again." – Donald Trump
Reasoning :  Can you use this quote on your custom t-shirt? No, you can't! As you would still need to get written permission for your authorization from Donald Trump to use this quote on your custom t-shirt.
Some Do's and Don'ts Before Planning Customised T-shirts ! 
Do's
You can use royalty-free images for t-shirt printing and other trading business
If you find any image, clipart or any other things on the public domain, you can use these images as its intellectual property rights have expired
When it comes to t shirt printing quotes, you can use any quotes or line of an author from the public domain
You can use national symbols and flags as these things are not covered under any copyright or trademark laws
If you are creating a parody t-shirt design, you can generally use famous characters that are acknowledged by others
Don'ts 
Avoid using logos, trademarks, and names of companies and brands
Do not use any photo or artwork of a celebrity as it involves some complex copyright issues. So, avoid that as well
If you find an attractive graphic or image that is not registered for commercial use or free use, then neglect using it on your t-shirt design
Avoid quoting anything on t-shirts from an author who is alive
When creating a t shirt design, you are restricted to use images or characters taken from movies, games and television shows
Quotes from movies cannot be used on t-shirts due to their copyrights issues (brittanyratelle.com)
As in the above-mentioned article, we tried solving maximum questions about copyrights and trademark. While some people still have few specific questions like :
How do I get permission to use a logo?
To get permission, write a letter to the original owner of that logo. Include a specification of why you are asking and how the logo will be used whether commercially or non-commercially. Get the authorization in writing.
Can logos be used without permission?
Yes, if it's from the public domain you may use it without any permission, as public domain is a place which is available for the general public. They can be copied, sold and merchandise in whichever way you want them to.
How long does it take to trademark a slogan?
Start the process of registering a trademark for your slogan soon. The trademark registration process takes around six-to-eight months, with lots of objections coming in the way while registering your trademark. 
How do you avoid copyright on t-shirts?
Avoid using logos, photos or artwork of a celebrity, and names of companies and brands. Don't use images or characters from movies, television shows or web series as they all come under copyright issues.
How do I know if an image is copyrighted?
Firstly, look for its watermarks or a note indicating its ownership or search on google if the image is earlier posted somewhere else on any other websites. If you still can't find it then visit India's copyright page to see whether the image is copyrighted or not.  
So, as it is rightly quoted "When you have the wit of your own, it's a pleasure to credit other people for theirs" Copyright laws seem like a lot to carry off, but you need to know its values. Start buying your custom t-shirts from renowned websites. Don't let the concept of legal matters come in between your ideas and designs.
For copyrights-free custom t shirts or t shirt printing online India get in touch with us at Champu!
Note: Images used in the article are for representational purposes only.